SQUEEZE Inc. is a smart hotel management business that incorporates a self-developed accommodation management SaaS solution.
We asked Mr. Suzuki about the results of the introduction of tripla and his plans for the future, as he envisions improving convenience by using tripla's "membership function" as a gateway.
---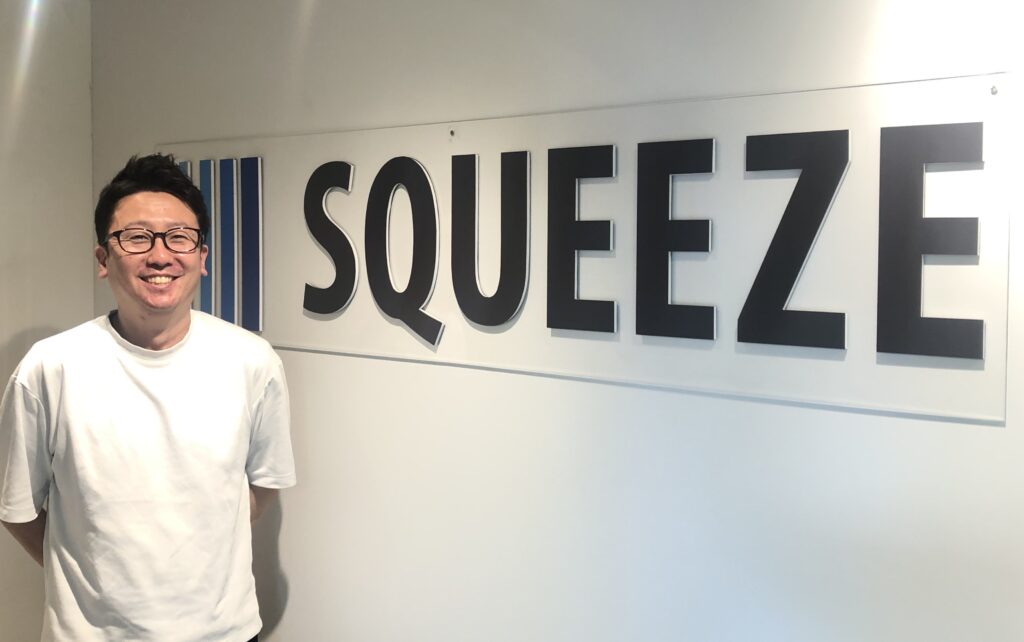 【 SQUEEZE Inc.】
Mr. Yosuke Suzuki, Division Manager, Smart Hotel Business Division
---
Q: How effective is the introduction of "tripla Hotel Booking"?
– Direct sales ratio increased to 15% to 20%.
SQUEEZE operates 10 aparthotels and entertainment-type hotels.
We used to use other booking engines and our share of sales was mostly OTAs, but since switching to tripla as our accommodation booking system, our direct booking ratio has now risen to 15%.
Our goal is to have 20% of direct bookings as a share of total sales, and although we sometimes reach 20% in some months, it is usually around 15%.
We are definitely seeing an increase in our direct booking rate.

– Corporate use available! We were able to offer special plans to approximately 60,000 people.
Using the "corporate function" of tripla Hotel Booking, we issue IDPW for corporate login and sell limited plans to about 60,000 partner and shareholder companies.
Between January and May 2021, more than 200 people used the service.
We are happy to see so many users, and most importantly, we were able to develop our corporate plan smoothly by using tripla.
The corporate function of "tripla Hotel Booking" allows customers to log in with their corporate IDPW and easily complete reservations for corporate-only plans on the system.
As for the management and setting side, it was good that we could manage all the facilities in a horizontal way.
I think it would have been very difficult to manage each facility here. For example, we would have to add a plan price for each facility, such as how much of a discount there would be etc.
However, with "tripla Hotel Booking", once the membership program was set up, the whole process was fast. I think it was also easy to issue corporate IDPW.
It would have taken an enormous amount of time and effort if we had assumed that the reservation e-mails would be accepted and reflected in the core system, but by using tripla, we were able to sell corporate products.

The reason why we started this corporate sales was as a result of thinking about what would be the most effective way to let users know about our hotel in a market and needs that are constantly changing.
At first, we were thinking of using traditional sales methods to try out businesses and shops in the vicinity of the hotel, but if there are so many partner companies, we thought we should talk to them first.
Our company informs the general affairs staff of each company about the hotel, and from there, they spread the information internally. With the cooperation of everyone, such as posting it on the company intranet, we were able to deliver the hotel information to a large number of people without fail.
At present, there are company welfare programs for holidays and work vacations. In addition, Minn Karuizawa was used for development training because it has a good environment to concentrate on.
Q: What was the deciding factor for you to introduce "tripla Hotel Booking"?
– Easy to manage multiple buildings. Multiple facilities with different owners can be managed collectively on a horizontal axis.
The ease of use of "tripla Hotel Booking" can be described from the perspective of both facilities and customers. From the customer's point of view, it simply requires fewer clicks to complete a reservation.
On the management side, the management screen is easy to understand, so even people with no experience in the hotel industry can use it intuitively.
In particular, it is convenient to manage multiple buildings. There is no need to create accounts for multiple facilities and go back and forth between the screens. It is possible to expand settings to other facilities, and changes and reflections to all facilities are completed with simple operations.
The brands and owners are different, but it's very easy to use, with sales in bulk and membership on the side.

– Cost sensitivity. By reviewing the segment, we wanted to reduce costs and increase our direct bookings.
The engine was introduced in 2019, and the main objective was to increase the ratio of in-house sales and achieve cost savings, as inbound traffic was still favorable at that time.
However, from a mid-to-long term perspective, we believe it is important to consider how we can deliver our information to our customers as hotels become oversupplied in the future.
OTAs will continue to be an important partner, but as the number of registered hotels increases, the exposure of each facility decreases.
Our company has also started marketing the D2C model, mainly designing the lead from SNS and each LP to our own website. We believe that raising our own ratio will eventually lead to cost savings.
In that sense, I was very happy with tripla's small fees and the fact that there were no initial costs.
Q: What is your outlook for the future?
– We want to get exposure with "Google Hotel Ads" to help people find our hotel.
In order to make our facilities known to individual customers, we would like to put our official website on metasearch platforms like Google Hotel Search by using tripla.
At the moment, the products on the official website are not visible at all, so customers will naturally flow to OTA reservations, but I would like to add the official website as one of the options.
In this case, we want to offer a smart "experience" only to those who book through the official website, rather than appealing to them with price or points. We hope we can make that happen.
– We want to focus on smart check-in and CRM by linking our systems with tripla.
In the future, we hope to link the smart check-in function we have developed with "tripla Hotel Booking" to identify customers and create a more convenient situation where any procedure is almost unnecessary.
First of all, you can use tripla's "membership function" to identify an individual, so you can skip the check-in input because it identifies the person at the time of reservation, and you can conveniently complete the check-in with a smartphone.
In this way, we want to provide a "personal and seamless experience" for our direct booking customers.
Furthermore, we would like to conduct push marketing to our members, which is an area that is still lacking for CRM in the accommodation industry.

In the case of systems other than tripla, especially when multiple buildings are managed, CRM is managed by each facility, and when it comes to integration, it is often said that additional development costs are required.
tripla comes with a membership management function as a standard feature, which allows for a high degree of flexibility in connecting and disconnecting each facility.
Our company is also developing SaaS and providing solutions, and we hope to offer solutions to other facilities in a package that combines systems, operations and external tools.
We are also considering incorporating tripla's accommodation booking engine into it.

– We want to make online accommodation booking that "customers won't get lost".
We are also thinking that we won't do pricing that causes customers to be confused.
Nowadays, with the rise of metasearch platforms, there are many ways to search for prices and reservations. This creates time for customers to get lost, and they may be disappointed that they could have gotten a cheaper price if they had made their reservation at another site.
Therefore, we want to properly be displayed on metasearch platforms.
In our opinion, ultimately, the sales price should be the same on all sites. However, you will always get the best rate if you go to the company's website, and you will get the added value of the experience that only the company's reservation can provide.
As a natural flow of online accommodation booking in the future, I would like to establish a route where if you want to visit a certain hotel, you can visit its official website.
– We would also like to focus on the official SNS of the hotel.
We want to use SNS to attract customers to our website, and we are considering using tripla's "SNS management service".
As an example unique to apartment hotels, just the other day a guest tweeted that he had tried a "trial cohabitation" and it was widely spread.
There were also times when a customer's YouTube video led to an increase in bookings.

In this way, marketing can be done through SNS, and unexpected needs can be revealed and used as a reference for new plans.
We would like to communicate actively with these customers on SNS, but as DX has progressed in each facility, the core work at the local level is only cleaning, and the front desk work is done remotely from overseas bases, so we would like to use tripla's "SNS management service" to reach out to a large number of people.

[Concept and features of "Apartment Hotel Minn"]
Experience a new stay! A functional and innovative apartment hotel.
Minn is an aparthotel that offers long term accommodation for small or large groups of people. Minn Kamata offers a comfortable space to stay in the same room with a group of good friends or your family. At the entrance of Minn Kamata, you will find a smart check-in system jointly developed by SQUEEZE and Panasonic. We hope you will experience a smart stay.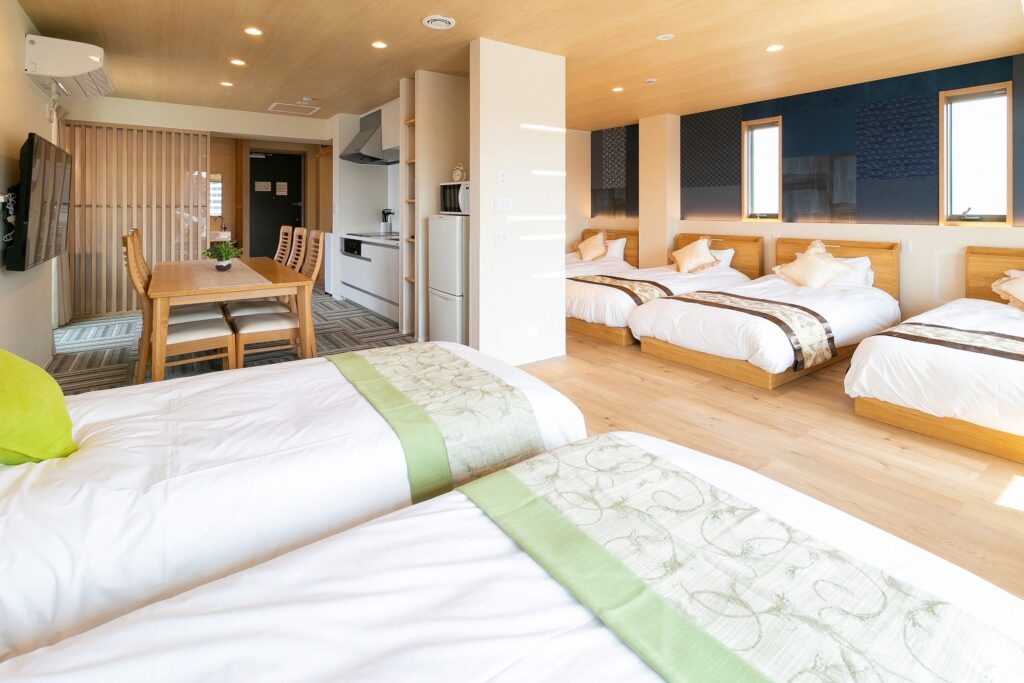 Minn Kamata Suite Room
Check-in at the entrance
Visit the official website of "Apartment Hotel Minn"
Thank you for your cooperation in this interview.