Since its opening in 1973 in the center of Matsumoto City, Nagano Prefecture, the Hotel New Station has been loved by all generations.
We asked Mr. Kobayashi, who hopes for development rooted in the region, about the effects of introducing tripla and his future prospects.

---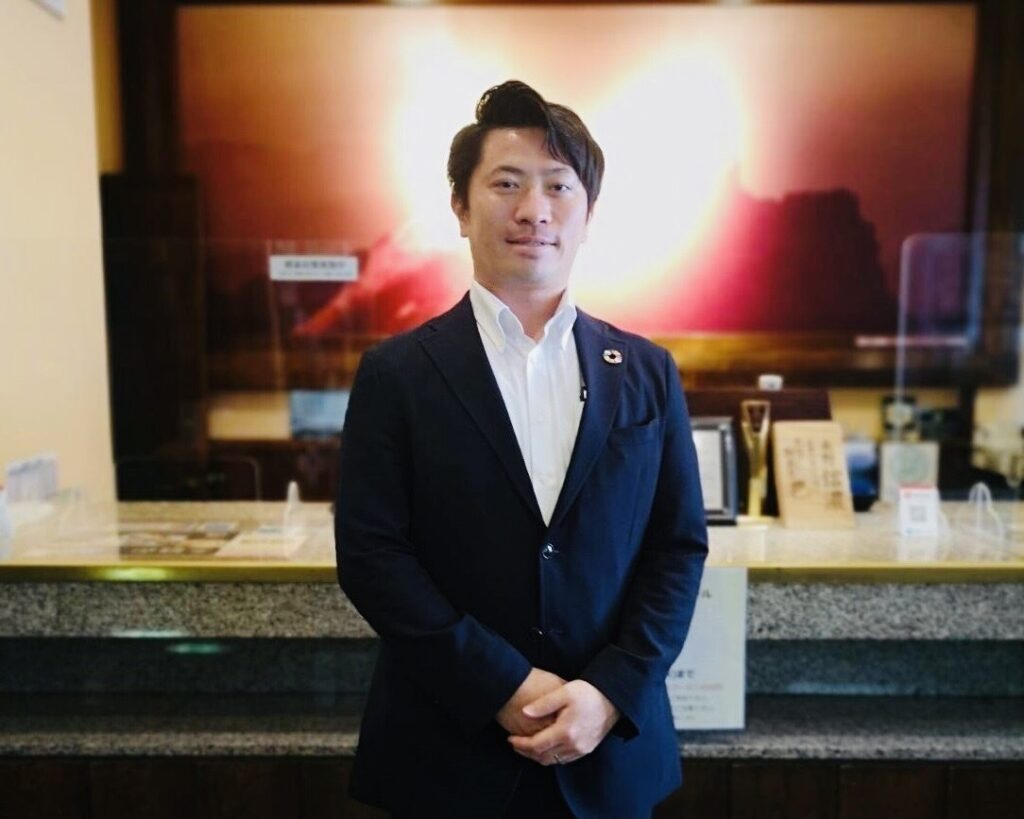 [Hotel New Station]
Mr. Atsushi Kobayashi, Senior Managing Director
---
Q: What are the effects of using "tripla Hotel Booking"?
– In March 2021, the company's booking rate exceeded 10%, a record high.
Immediately after the introduction of tripla, our own bookings were about 3%, but even with the influence of COVID, our own reservations have continued to increase steadily.
In March 2021, the rate reached a record high of 10%.
Recently, we have changed our strategy to attract long-stay guests, and we have seen an increase in the number of inquiries that we have never seen before in the chatbot history.
I think that people who are looking for hotels in Matsumoto City choose us because we are near the station and have been in business for a long time, and people who are interested in our official website will make reservations directly on it.
Looking at the actual CVR (= reservation conversion rate), it was 2.2% in February 2021 and 3.4% in March 2021. ※ The industry average is about 1%.
– The management screen is easy to read. Based on the inquiry history, we were able to revise the website with a rationale.
Page access ranking and FAQ ranking can be checked in the management screen of tripla.
The visualization of the figures is well done, which makes it easy to analyze.
The many questions we received in the chat rooms have been very helpful in revamping the official website.
The questions that always occupy the top 10 displayed questions mean that the information is buried in the hard to find places in the official website, so you can take that as a basis to make a modification.
Specifically, since we received many inquiries about the parking lot, we created a banner with chat information and placed it where customers could easily see it.
Of course, the parking page was originally there, but we were able to revamp the website in this way because of the number of times people asked questions in the chat room.
In addition, you can now use tripla's management screen to check how much new information is being asked when you add it, something you would not have known until you asked the HP production company.
– Introduced the chatbot to "avoid creating gaps in customers".
I think that we were the first in the region to introduce chatbots.
I myself love the analog, hands-on work of answering the phone, but I think we have relieved the stress of our customers by strengthening our response to their inquiries.
Above all, we believe that bridging the gap between before and after the stay as much as possible will lead to people becoming fans of the hotel.
The convenience of the official website is improved and reservations can be made without any gaps, so direct sales are gradually growing, and we expect them to grow even more in the future.
Q: What was the deciding factor for you to introduce tripla?
– It aimed to create synergy between an AI chatbot with a booking function and a booking engine.
When I saw tripla's service for the first time, I was very impressed by the novelty of being able to make accommodation reservations even within a chatbot. I thought chatbots were just for answering questions, so this was the first time I heard about the reservation function.
I thought it would be better to create a synergistic effect, so I also introduced tripla's booking engine.
Another advantage of using both a chatbot and a booking engine is that communication, implementation and operation costs are lower, rather than having to deal with various companies' services and complicated operation methods and commissions.
We also wanted to revamp our website at the same time we replaced the booking engine with tripla, so we changed our website production company from a Tokyo-based company to a local company in Matsumoto.
Hotel New Station's theme is "a local hotel rooted in the community," so we wanted to appeal the charm of Matsumoto and our hotel through images and visuals, and because there were limits to how much we could manage the website with a production company in Tokyo.
As a result, we were able to introduce the booking engine smoothly with the person in charge of the production company and tripla.
I think it is an engine that is easy for production companies to implement.
– Expectations for the "up-and-coming" with tripla.
I learned about tripla at a time when the booking system I was using before was costing me more than I expected.
To be honest, I was about to give up on the idea that the growth of direct sales would not improve very much, but I also thought that there were still some improvements that could be made.
I think one of the deciding factors for us was that we thought we could grow together with this booking engine, which is up-and-coming with a lot of potential for the future.
Although some features are not yet available, we feel that it is important to have a contact person that we can talk to about any issues that may arise before their release.
Q: Please tell us how you are using the membership function.
– I want to draw a story for our future customers.
It will be a long time before we can maximize our profits due to COVID. If that is the case, I would like to be a hotel that embodies our own unique concept of acquiring fans in the future and nurturing people in the community.
Recently, we have been coming up with new plans for long-term stays and for students, and we hope to create a story that will make them our future guests.
For example, the idea of business trips has been changing due to the novel coronavirus, and the number of people who take the risk of traveling and work across the week has increased from 2~3 nights in the middle of the week.
Nowadays, we can differentiate ourselves from the price competition by building loyalty among such customers.
As a result of strategizing in a way that meets our needs, I think we have seen a slight increase in reservations.
In addition, the more people become members, the cheaper it is to stay with us for consecutive nights, so we have many customers who become members for consecutive nights. We have been able to acquire members while having guests stay for a long time at a discount.
We believe that it is significant to have a proper membership program, even for our core fans who have been with us since before we started membership.
We used to offer rewards with other companies' points, but the fact that we have our own membership program was one of the deciding factors for me to choose this booking engine.
If we can offer members the opportunity to purchase items at a discounted price and earn points, we believe that even customers who came to our hotel because of the price appeal will feel that they made a good choice.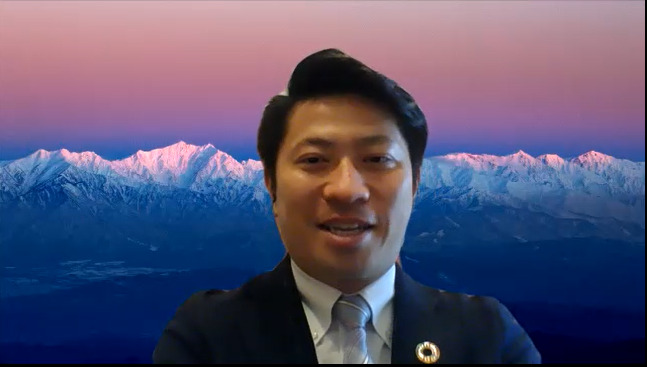 A scene from the online interview. The background is the "Northern Alps" photographed by a customer.
The works collected through the photo contest held on Instagram
are displayed in each guest room of the Hotel New Station.
Q: What is your outlook for the future?
– We hope to develop the entire region with a view to using the "extra sales function".
The "tripla chatbot" can also make reservations for nearby restaurants and car rentals, so it would be nice if the chatbot could perform the same functions as a travel agency.
We hope that tripla's service will become a platform for travel on the official websites of lodging facilities, and that customers will be able to make all type of reservations.
Many restaurants and tourist spots are in great need in all areas, so if possible, it would be great if tripla could be close to the community and extend reservations.
I believe that we can create something attractive by using the functions we have now, and if we can further connect those functions with the hotels, we can create a site that is unrivaled by other companies.
For lodging facilities, it was a hassle to make plans for each and every such peripheral sale.
On some days, you can make the activity but there is no room, and on the other hand, this activity can be closed on that day.
If you can increase the number of activities and "options" that customers can choose from, rather than managing inventory and increasing the number of plans to complete within a plan, I think it would be a good platform that would involve the local community.
First of all, I am looking forward to using tripla's "extra sales function".
– I would like tripla to become a platform to support the local community in the post-COVID future.
The system of the pre-payment service "Future Accomodation Ticket" was very good, and I am hoping that it will be one of the mechanisms to drop money into the local community even after the coronavirus period.
If restaurants can make a profit even by taking a little commission, I think they can make more profit than local GoTo campaign. For example, if we could do it on a performance basis or on a pay-as-you-go basis, the restaurants would not have to suffer so much, so I think it would be good if we could expand the number of restaurants handling the service.
In addition, the type of sites that spend a lot of money on advertising to get to the top of the list don't highlight the real good stores in the area and how good they are. We also want to let people know about the good, long-established stores that don't use such sites.
In fact, I am often asked at the front desk, "Is there a good restaurant nearby?". I think it's important to have the front desk skills to be able to give a good answer, but on the other hand, there are also QR codes for restaurants that are recommended and can be easily reserved, or common tickets that can be used at these restaurants.
I feel that it can be done by using the electronic coupon function well. The hotel could issue meal coupons worth 1000-2000 JPY for now, which could be used on non-holidays, and online reservations could be completed through tripla. I wonder if it would be possible if all the payment went to the hotel or if it was a stand-alone contract and the payment would come in later as accounts receivable.
It would be great if tripla could explore what other companies can't do.
We hope to create a good system in each city that will remain in place even after the GoTo campaign ends.
[Concept and features of Hotel New Station]
Aiming to be a local hotel rooted in the local community
A one-minute walk from the castle exit of Matsumoto Station. We offer a variety of plans to support your stay in Matsumoto, such as a long-term stay plan that reflects the changes in business use, a hotel living plan for university students, and a continuous stay plan for those returning to Matsumoto.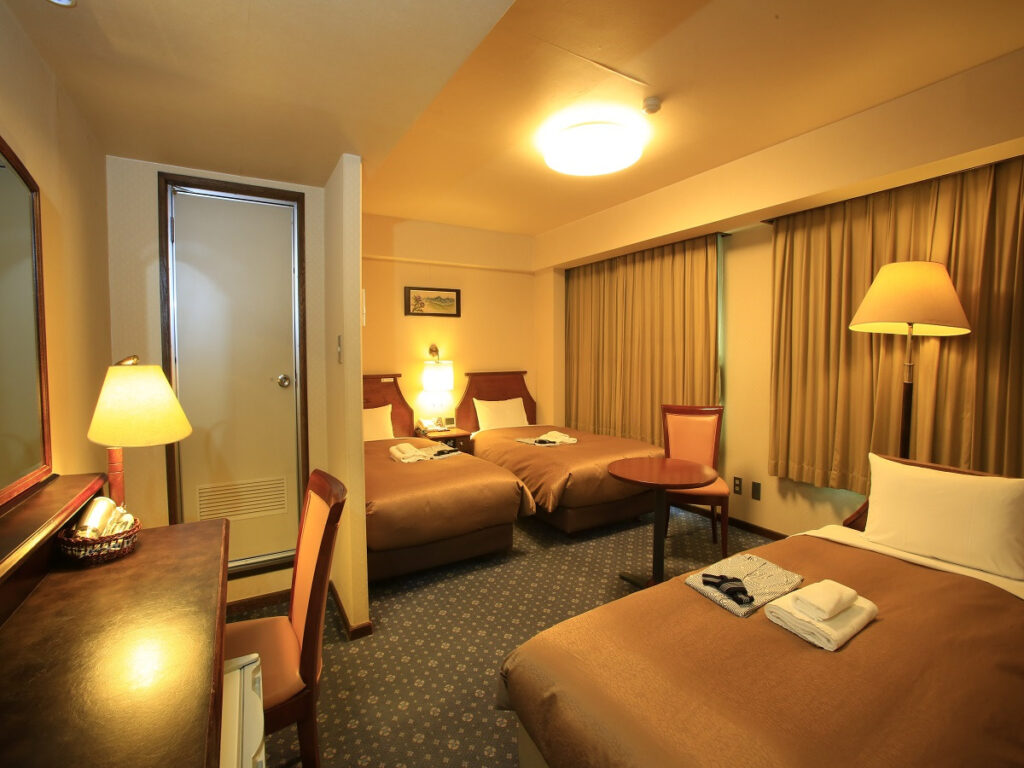 Hotel New Station guest room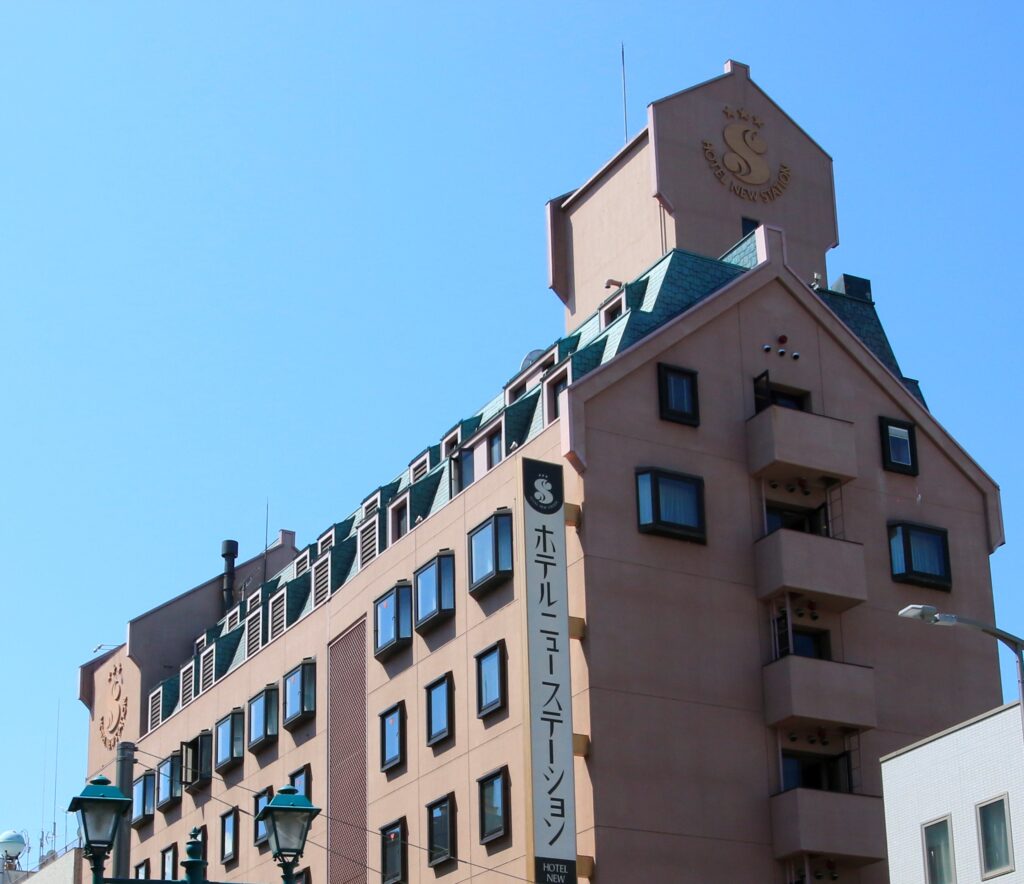 Exterior of Hotel New Station
Visit the official website of Hotel New Station
Thank you for your cooperation in this interview.