"Guam Dog Hotels Hakone Gora Guam Dog Honten" is an inn in Hakone Gora where you can stay with your dog. We asked Mr. Ushiroda, the manager of Guam Dog Hotels, who searched the latest and most user-friendly reservation system and introduced tripla Hotel Booking, about the decision to use tripla, its merits, and the concept and thoughts of Guam Dog Hotels.
---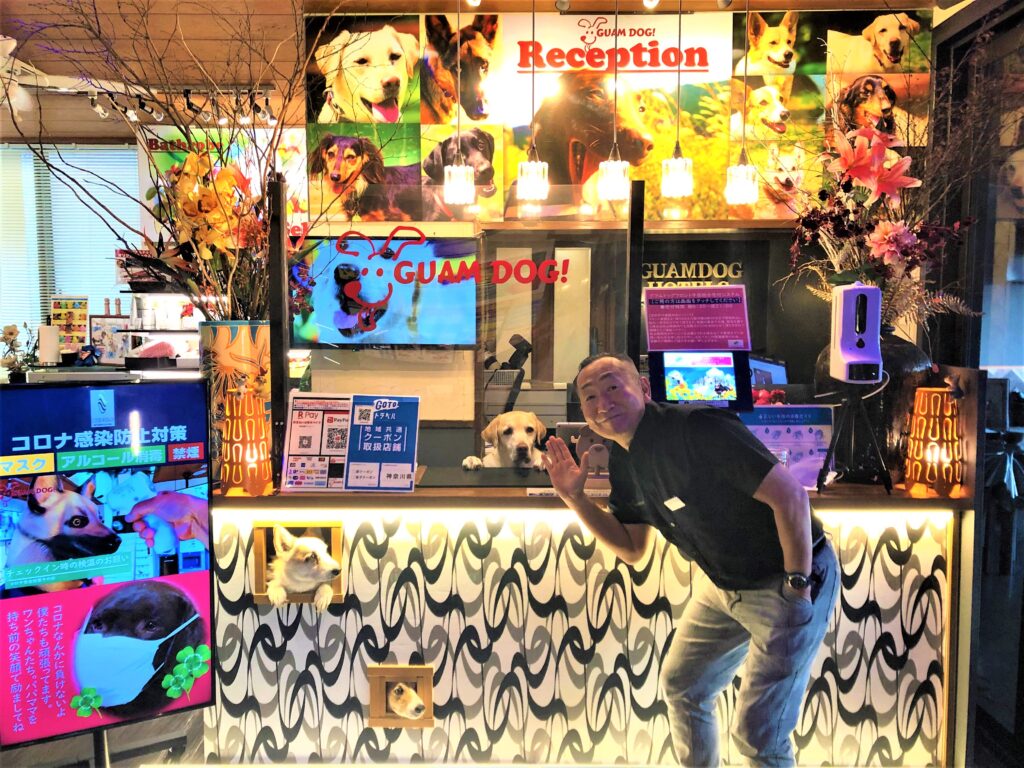 Guam Dog Hotels Hakone Gora Guam Dog Honten
Mr. Shingo Ushiroda, Manager
---
Q: What are the benefits of using "tripla Hotel Booking"?
– No more phone calls saying "I don't know how to make a reservation".
We have used 3 reservation systems before introducing tripla. The system we used before was complicated to operate, and it was difficult for customers to understand how to proceed with the reservation, and there were times when customers called us in the middle of making a reservation and the inn would enter the information on their behalf.
However, since "tripla Hotel Booking" is a sophisticated and easy to use system for customers, there has been no phone call regarding the reservation method since I started using tripla.
Our original direct bookings ratio was more than 80%, and we have maintained that ratio even after the introduction of tripla. From this point of view, I think we can say that tripla allows customers to complete their reservations smoothly on their own.
Small inns want to systemize where they can, even if only a little. Otherwise, we won't be able to enhance the overall service of the inn, and if the number of inquiries increases as a result of adding a system, it will be a complete loss.
We want to use the time we save for service. We want to let the system do what the machine can do and improve the accuracy. We think that spending money on the system part is a small amount compared to the labor cost.
On the other hand, if we don't generously provide things that directly touch the customer, we will not be able to create excitement.
With the introduction of "tripla Hotel Booking" and "tripla chatbot", I feel like I have more time and energy to spend on customer service.
– The "coupon feature" is highly beneficial to customers.
It is temporarily suspended now, but it's great that we can sell directly on our own website at 35% OFF during the GoTo campaign. Since we can sell the products at the discounted price, it is very straightforward for customers to complete the payment without the need to get coupons on other sites later.
Also, after the announcement of the suspension of GOTO, we were able to register and sell new plans right away. It's now the "workation with your dog" plan. We will continue to monitor the GoTo campaign and flexibly respond with "tripla Hotel Booking".
Q: What were the challenges you faced before implementing "tripla Hotel Booking"?
– "I want to increase the number of customers who come through direct sales", which was the initial challenge when opening the business.
The first thing I did when I opened my inn was to start selling through OTAs to attract customers. I started using OTAs with the booking engine I had been using before tripla because it worked well together, but there are many competitors with OTAs and I felt that I could not express my concept.
Guam Dog wanted to attract customers who would like our concept: "We see our dogs as members of the family, no different from humans, and we want to spend the same time with them".
We also felt that the booking procedure was difficult for customers to understand with the conventional system.
First you choose a plan, then you enter your information, then you go to the next page and it asks you for various items again. And if you make a mistake or go back to a page, all the information is lost. So I thought it was understandable that customers would give up halfway through the process.
Therefore, we were looking for a booking engine that could express the concept of the inn and be easy for customers to use.
– Hardware issues unique to hot spring resorts. I was looking for a cloud-based system.
There was a hardware issue. Other companies' engines are not yet fully cloud-based, but on-premise.
But in hot spring hotels, computers often break due to sulfur.
Sometimes the base and motherboard break and suddenly the power goes out. So I was too scared to install any software, only the OS, and I wanted to upload all the data to the cloud.
I thought this problem could be solved with tripla's industry-first cloud-based accommodation booking engine.
– I wanted clear support
Lastly, there is the interaction with support. With previous systems, it took a few days to receive a response, or you could get a response right away, but the system itself was quite complicated. Also, some of the systems were designed for big companies and the thinking was old-fashioned. The terms used in the explanations were also difficult to understand, so it was very difficult to communicate with them.
In this respect, tripla responded quickly and explained things in easy-to-understand terms. Furthermore, I felt that tripla is a company that listens to the voices of us inns as well as major hotels.
Q: Why did you decide to use "tripla Hotel Booking"?
– "Looks sophisticated" is the best way to describe it
When I saw the screen of tripla, my first impression was that it was sophisticated, and that was the most decisive factor for me. I was also attracted by the line that said, "Complete your reservation in as little as 4 steps".
For customers, it is easy to understand the inn's plans with large pictures, and the reservation flow is good. It is easy to understand where to enter information, and there is no need to jump to an external website.
Credit card payments can also be made within the tripla domain, and I thought that this would prevent customers from leaving the website.
I also felt that it was a state-of-the-art system where the burden on the hardware side was reduced.
– Many advantages of switching to credit card payments
With COVID becoming a new factor, we wanted to eliminate local payment and use only card payment. Pre-payment by credit card avoids the risk of uncollected cancellation fees. Another benefit for both parties is that guests who sympathize with our concept and definitely want to stay at our hotel will make reservations.
In this age of cashless society, it is risky to carry cash with you when you travel. When families come to Japan for the New Year holidays, it would be a shame even for the recipients to bring hundreds of thousands of yen with them.
Before coming to the inn, all the payment was done easily, and check in and out could be done comfortably and smoothly.
The booking system we were using before was compatible with major online payment systems, but it was not yet widely used in Japan. We had to ask our customers to create an account, and that was one big hurdle.
However, with tripla, although card information needs to be registered, the payment screen is on the inn's official website. There are no screen transitions that make customers feel uneasy or take unnecessary time.
Furthermore, the 1.8% card transaction fee is also very attractive for small lodges.
In the future, due in part to the influence of COVID, I believe that the movement toward "contactless" transactions, which do not require cash to be exchanged at the front desk, will further accelerate. For lodgings that are thinking of accepting card payments, I think there are great advantages to using tripla.
Q: How did you introduce the tripla chatbot?
– The chatbot is the "navigator" on the official website
We have used chatbots in the past, but they were flowchart style.
At Guamdog, we put a lot of effort into our official homepage, which has a lot of information on it. With the flowchart style, it would have taken customers a long time to get to the information they wanted to know on our website.
Therefore, we decided to introduce the tripla chatbot because we thought it would be easier to access the information we wanted to know if a free-word chatbot was included.
Since we have a well-developed website, we would like to provide information, and since we have a small staff to do so, we would like to provide highly accurate answers without the use of human hands. So, it would be great if a chatbot that can be used easily could play the role of a navigator.
This time, we used the IT subsidy to add a chatbot, and tripla helped us with the application process.
– To ensure that we can use the official website comfortably on our smartphone
I believe that our official website is still difficult to view, especially from smartphones. So, I think it will be more convenient for customers if there is a casual chatbot icon that allows them to ask questions and jump right to the level they want to go.
I also think that we need to think about what happens after GOTO campaign is over. In particular, I think the issue is how to make reservations smoothly with a smartphone, so I have started to enhance the chatbot so that people can make reservations through it and people who really want to stay can get the information they need.
Since we are often asked for information about dogs, such as breed, size, and number, we would like to improve the accuracy of our answers and customize the chatbot icon to "look as if Guam is answering the questions", which is the concept of our website, rather than being mechanical.
Q: What is your outlook for the future?
– We want to focus on selling options
Right now, we can't take a lot of rooms because it would be too dense. We need to increase the unit price, or the added value for our customers, rather than the occupancy rate. So this year, we are planning to remodel 2 rooms into 1 room. We will have 3 rooms and all rooms will be suites.
In terms of increasing the unit price, I would also like to use the optional sales feature of "tripla Hotel Booking".
Our restaurant offers champagne and wine, so if you can purchase your favorite brand in advance, we will be able to welcome you in perfect condition.

– We want to make the inn in adequation with our times
Guamdog has started selling workation plans. You can stay here with your dog and work while having a dog run. We want you to have that kind of time with us.
For this purpose, we have completed the installation of facilities, including pulling in wired LAN and installing access points in each room.
We hope to use the tripla engine to sell these workation plans in an easy-to-understand manner with large images, and to attract customers who love dogs.
We will also continue to introduce the latest systems that will increase convenience for our customers.
By doing so, I would like to continue to further strengthen our branding in addition to the concept of a doggy inn.

[Concept and features of Hakone Gora Guam Dog]
– A cloudy hot spring inn that only adults can spend time with their dog –
This is a hot spring inn equipped with a dog run, a hot spring for dogs, and other facilities where you can stay with your beloved family member and your dog. You can spend time with your dog not only in your room, but also at restaurants and in the bath, providing maximum support for creating family memories in Hakone Gora.
"I will spare nothing for the happiness of my dog. That's what makes the owner happy. We will help you give shape to such a wish." (Manager Ushiroda)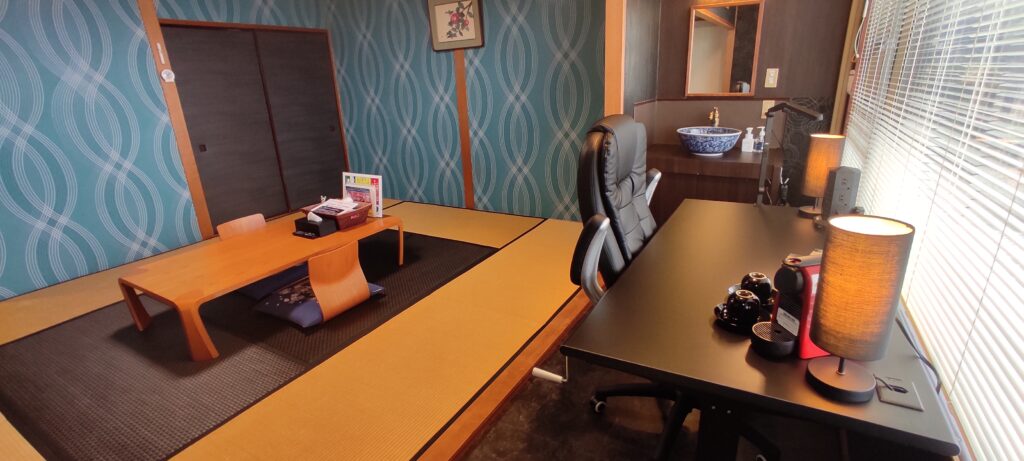 Guest room for "workation with dog" plan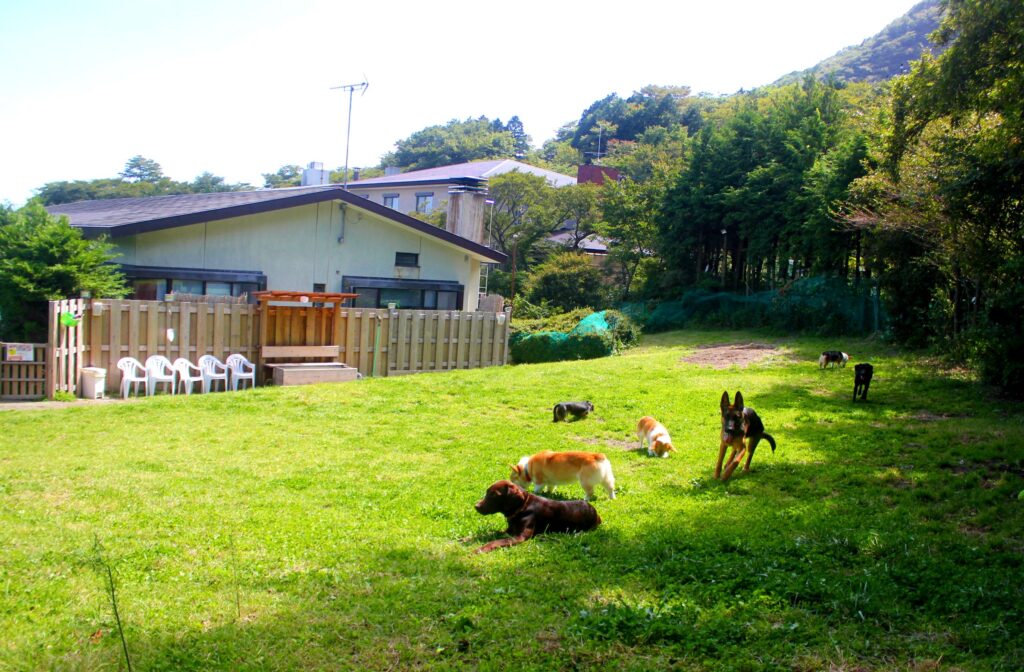 Dog run with footbath
Visit the official website of Hakone Gora Guam Dog
Thank you for your cooperation in this interview.