Minacia Co., Ltd. operates 37 facilities in Japan, including the brand "Hotel Wing International".
We interviewed the company about the key points and benefits of using tripla Hotel Booking, and their future plans, as they sought a system that would easily provide benefits to their customers.
---
Minacia Co., Ltd.
Mr. Yasuyuki Sugiyama, General Manager, Sales & Marketing Dept.
Ms. Miyuki Aoki, Manager, PR & Marketing Section, Sales & Marketing Dept.
---
Q: What are the benefits of using our service?
― Although it is not possible to simply compare with last year's results, we have seen some growth.

We switched our booking engine to tripla Hotel Booking in August 2020 and have seen a real increase in both membership and our direct bookings. While overall sales have been declining due to the impact of the COVID-19, we have started selling the GoTo Travel Campaign. Therefore, the situation is not simply comparable to last year.
However, the number of reservations on our website has been steadily increasing. Less than 2 months after switching to tripla Hotel Booking, the number of reservations made on our website exceeded the number made last year. The average CVR for all facilities was 1.52 times higher in October than last year, and 1.56 times higher in November than last year. In terms of number of reservations, November saw an increase of more than 3,000 compared to last year.
There are several facilities with CVRs in the 7% range. ※ CVR of general booking engine is around 1%.
And the ratio of in-house websites has increased. In-house category includes corporations, so the ratio was high in the first place.
In urban areas, OTAs were competitive due to inbound travel, and in rural areas, many hotels got more bookings via their official website, so we can say that even under these circumstances, there was not that much of a drop when looking at the entire company. In fact, many of the facilities that saw an increase in CVR compared to last year are in rural areas, where there are many repeat customers. Once again, I realized that the deeper the relationship with customers, the higher the ratio of direct bookings.
― Overcome difficulties with customer relationships and systemic support

The fact that tripla Hotel Booking was a booking engine that we could use to book our GoTo Travel campaign was beneficial.
By using tripla's "coupon feature", GoTo sales can be made on the official website. We believe that this has contributed to improved conversion as customers are less likely to become confused or leave the site.
I think that the efforts we have made so far to build a deep relationship with local customers, along with improvements in the system, have kept us from falling that far. We will continue in this way for a while.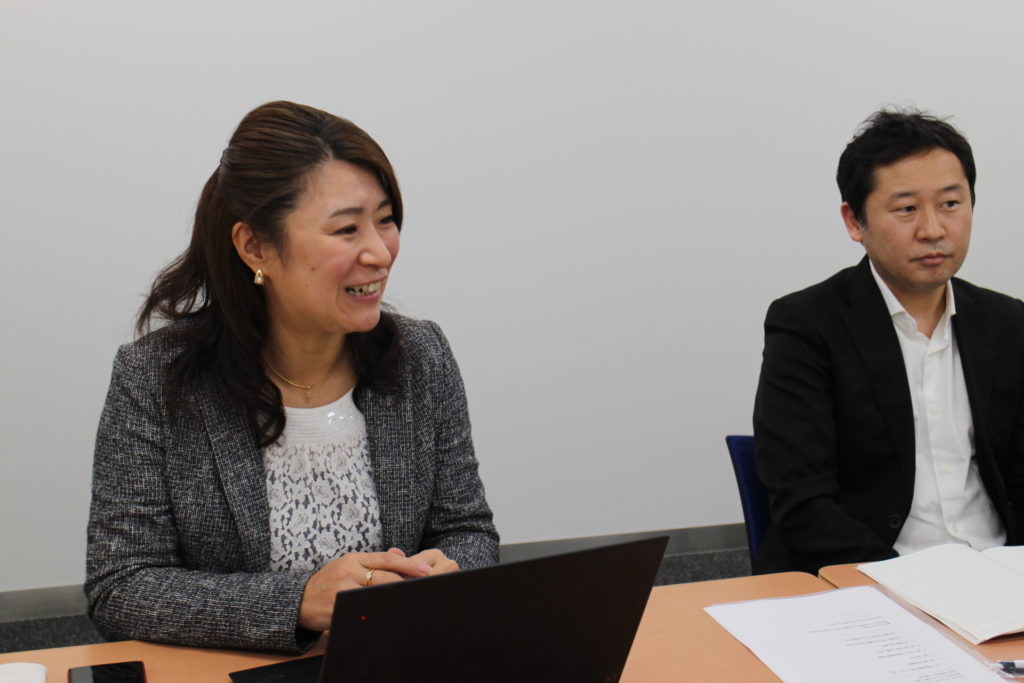 Left: Ms. Aoki, Manager, PR & Marketing Section, Sales & Marketing Department
Q: What were the challenges you faced before implementing the system and what are the key drivers?
―What is a user-friendly system for customers?
Since there are a certain number of people who visit the company's website, the challenge was to further increase the ratio of direct bookings by expanding the contents and improving the booking process.
"Is this system really easy for customers to make reservations, including lead time?" There are many factors to consider, but I thought it was the simplification of the steps and the way it is presented.
With tripla, the booking steps are simplified. In addition, the demo showed that it was fast and that the reservation screen did not change to another URL. And you can display a "member price" on the reservation screen for each plan, which is a discount over the regular price. This was one of the deciding factors for us to introduce the system, as we felt that it would make conversion easier.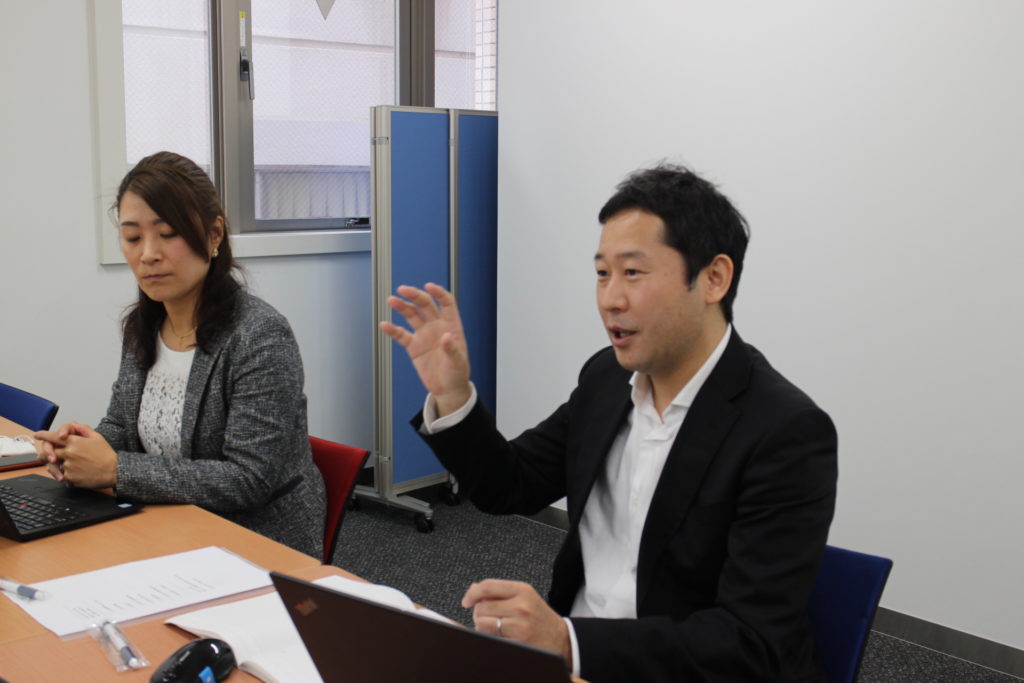 Right: Mr. Sugiyama, General Manager, Sales & Marketing Dept.
― It fits with the direction Minacia wants to take
A different perspective on conversion was the integration of membership programs and comprehensive CRM.
Currently, Hotel Wing has its own membership program for reservations on the official website, for rewritable loyalty cards and more.
We were looking for a system that would make it easy to connect various programs, and the challenge was to find a place in the PMS, BW, and CRM to have a point program that would allow members to save money on their stay.
At first, we wondered if we could get our company to use something other than a booking engine, but when I heard about tripla booking engine concept, we thought that it matched what our company wanted to do and what we needed to do. We chose tripla because we wanted to strengthen the exposure and retention of our brand, and because of the affinity and future integration between the CRM and the booking engine. Also, the low credit card transaction fees were a key factor.
Q: What are you expecting from tripla?
When we ask tripla, "Is it possible to have this kind of function or this kind of concept? tripla always responds very quickly with "Yes, we can do that" or "We plan to implement it in a month". The good thing is that there are no huge costs for additional development.
Other booking engines were not designed with the features we wanted or from user perspective, so customizing them would take a lot of time and money. It is an undeniable fact that the hotel industry's booking engine itself has remained unchanged for a long time.
There is a part where it would be better if the e-commerce approach, which can be considered the cutting edge of digital marketing, and the hotel's desired operations were more aligned, but I believe that the way the engine is built and looks is something that has never been seen before in the hotel industry. I believe that tripla's development of new features within the commissions that we pay will benefit the entire industry, including other hotels.
There was a assumption that new development should cost extra, and that the monthly cost of HP operation should be kept low. Otherwise, it would be just like an OTA where you pay a lot of commission. However, if you have customers who keep coming back to your website, your revenue will not drop that much even if the denominator of the overall market drops. We have actually experienced this with the COVID-19 situation, so we would like to continue to work on acquiring repeat customers while also using the tripla system.
Q: What are your future plans?
We will increase the number of PVs and conversions through the user-friendly booking engine and price promotion. In order to get people to come to our website first, we are considering using our own metasearch (linked to Google Hotel Ads), which can search and display the sales rates of various lodging reservation sites across the board. In the future, we would like to spread the name "Hotel Wing" widely and further expand its recognition.
We also want to establish a CRM that is highly compatible with the booking engine. We have positioned a loyalty program as one of our comprehensive ideas, and since we still have OTAs as well as our own website, we are trying to manage repeat customers in a complex way and promote loyalty programs for each of them. By doing so, we would like to provide benefits to all of our customers and make our hotel a favorite for a long time.
I feel that there are other features that we can't use yet. I think we can use the coupon code and other private functions for our own promotions after GoTo ends.
[About Hotel Wing International]
Started as "community-based," diversity has become one of its characteristics
Hotel Wing, which has a history of about 30 years, originally started its development first in areas that were not in the city center. The hotel started as a community-based hotel that promotes local food. In some areas, there were facilities where many customers stayed for consecutive nights as a base for mid- to long-term construction-related work or route sales. In such areas, customers sometimes still buy souvenirs from us, and we have built a community-based, family-like relationship with them.
After that, from around 2015, we accelerated the opening of new facilities in the city center to meet the needs of the times, such as the increase in inbound tourism. Many of the new facilities have modern designs, but we still keep in mind the keyword of regional characteristics. For example, the design of Hotel Wing International Premium Kanazawa Ekimae was supervised by the same architect who designed the Tsuzumi-mon Gate, the symbol of Kanazawa Station. I believe that one of the characteristics of Hotel Wing is this kind of community-based approach and the resulting diversity.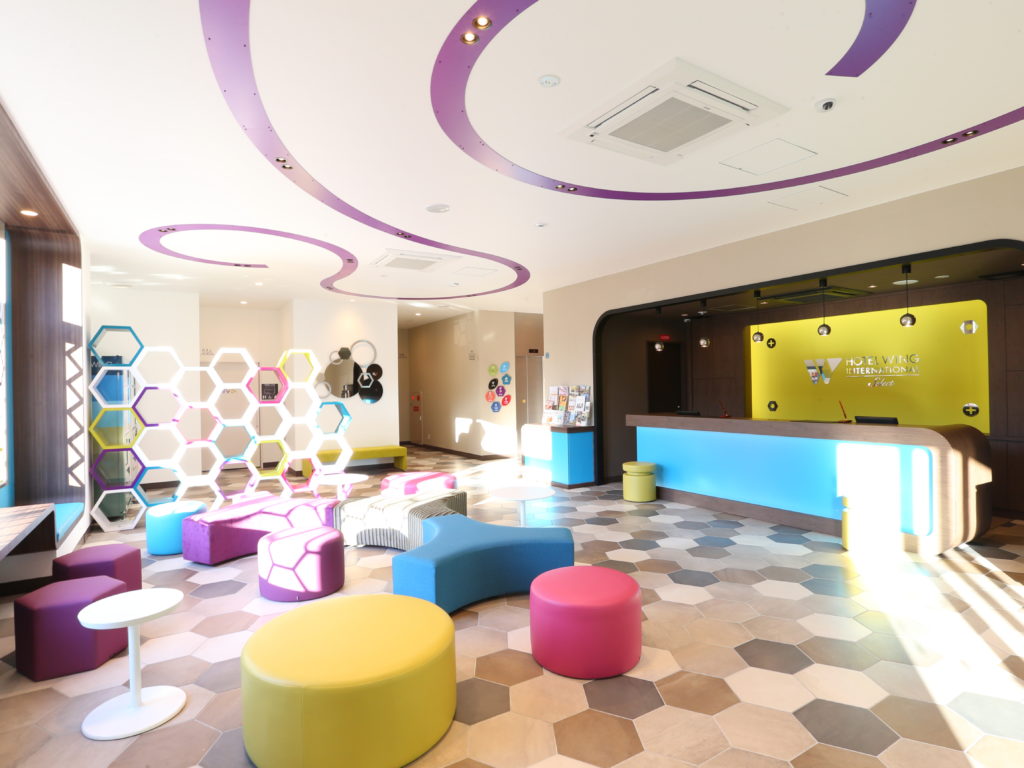 Hotel Wing International Select Higashi Osaka Lobby
The theme of the design, which uses a "screw" motif, is "rugby town" and "manufacturing town".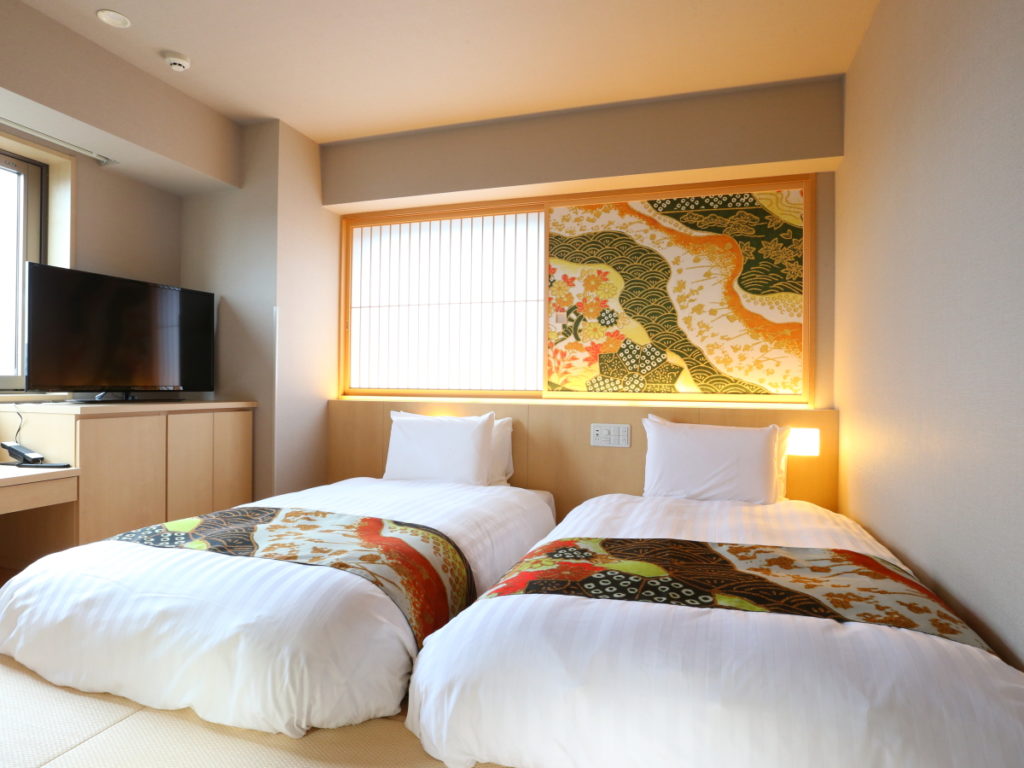 Hotel Wing International Premium Kanazawa Ekimae Premium Japanese-Western style Twin room
Thank you for your cooperation in this interview.