Itsuki Hotels Japan Co., Ltd. manages Yufuin Bettei Itsuki, a hot spring inn in Yufuin, Oita Prefecture that blends traditional and modern styles. In March 2021, the 2 ryokans, Baien and Toshoan, were taken over and reopened in Yufuin.
Around 2017, while considering the possibility of accepting inbound travelers, we introduced tripla chatbot because we thought it would improve our services. We asked Mr. Maeda, Representative Director, about the results and his impressions of tripla, saying, "Not only large hotels, but also small inns should introduce it as soon as possible".
---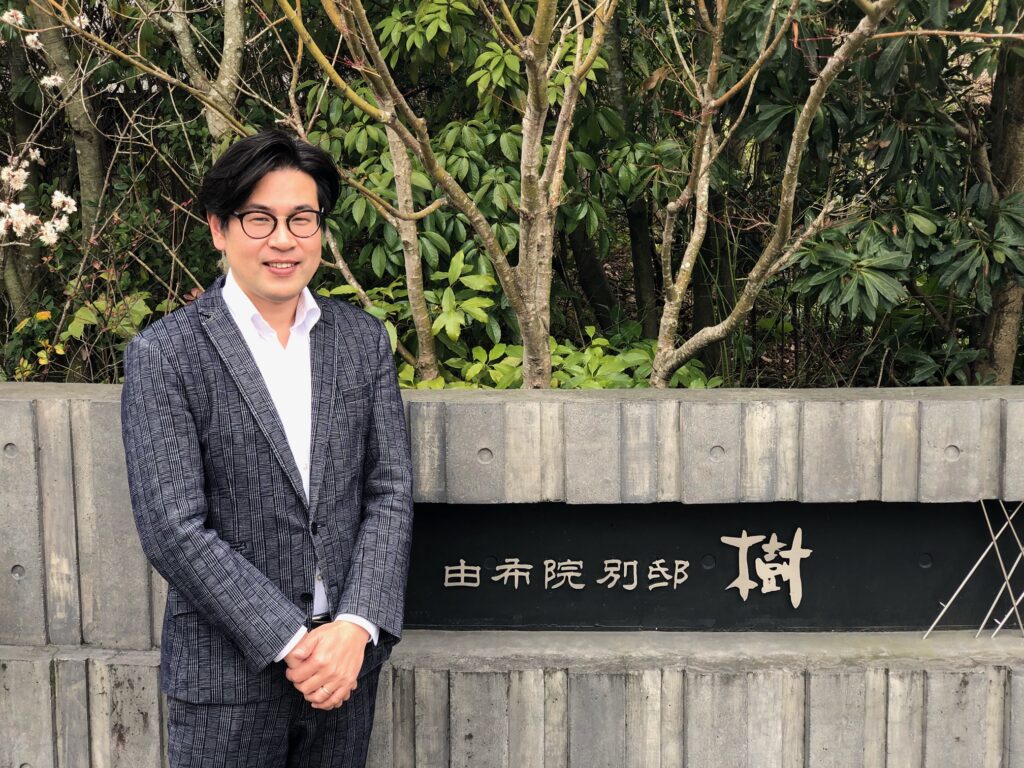 Itsuki Hotels Japan Co., Ltd.
Mr. Hiroshi Maeda, Representative Director
---
Q: How did you introduce the "tripla chatbot" and what were the results?
– Chatbot implementation and overseas sales are linked
With the launch of the tripla chatbot, we have seen a rapid increase in our inbound sales and market share.
At that time, we were taking reservations for inbound tourists through overseas OTAs due to the problem of multilingual support, but the timing of the introduction of multilingual AI chatbots coincided perfectly with the timing of the increase in the market share of overseas OTAs. I think this is also a result of the introduction of the chatbot.
Of course, there is the background of the increase in the number of inbound tourists in Japan as a whole, but in reality, I think it is more correct to say that the cancellation rate after making a reservation has decreased significantly rather than that the number of reservations has increased.
As is happening in many inns, inbound reservations are often made, but many cancellations also occur. The introduction of chatbots has led to the elimination of a series of anxieties of inbound tourists, from making reservations to receiving information about the inn, and as a result, the cancellation rate has decreased, and the yield of inbound tourists who stay at the inn with a long lead time has increased.
I believe that if you can immediately solve a problem in a language that the customer understands, it creates a sense of trust.
– "Smaller inns are the ones that should be introduced as soon as possible" to improve customer service
If small-scale hotels and inns want to communicate with inbound tourists on their own, I think the best way to serve them is to use this system.
When we started using chatbots in 2017, the challenge was to handle reservations with inbound tourists. We used to spend a lot of time replying to the large number of inquiries that arrived in our mailbox every day, but with the introduction of AI chatbots, we are now able to respond immediately and automatically. Moreover, we feel that the system is very effective as an immediate response system that can respond to inquiries 24 hours a day in a language that suits the person.
No matter how much employee training is done, multilingual training is difficult, and on the other hand, even if multilingual overseas personnel are hired, it will take time for them to grasp the operations of the ryokan until they can perform front desk duties.
Moreover, it is impossible for small facilities to be available 24 hours a day, day and night, so I think this is where AI chatbots can be most useful.
It can be said that the same function is created as having multilingual staff around the clock, which is difficult to recruit.
From a cost perspective, if we were to allocate human resources capable of dealing with multiple languages 24 hours a day, we would need 4-5 employees. Considering the cost of hiring and training such personnel, AI chatbots will probably cost about 1/10 of that.
Also, chatbots are often thought of in terms of labor reduction, but I see them as "customer service".
Not only the cost of the phone calls you receive, but also the time it takes to respond to them is an important asset. A speedy response can eliminate anxiety and inconvenience, and thus improve the level of service in terms of not damaging the customer's valuable resources. Moreover, the conversation history will be retained.
The shortage of human resources that many small-scale facilities, including ours, are facing is not expected to improve drastically in an era of declining population, and I believe that advanced information technology such as AI chatbots is very important for customer service in terms of improving the quality of service and eliminating anxiety and inconvenience for customers. This is a very important customer service.
– tripla's training allows the AI to absorb answers specific to your facility
After the introduction of the system, I sometimes received calls from tripla's Japanese-speaking operators regarding the content of my answers. I felt that this was new. It's a fusion of the digital and analog aspects of chat.
The confirmation call was not a burden at all and I thought it was rather a good thing. In response to the somewhat difficult question from the customer, we cooperated with the operator behind the chat, and we were able to answer via the operator what the ryokan was thinking, so I was rather relieved.
Sometimes there are irregular cases or parts that are difficult to explain. I think this system is an important analogy because it allows us to convey our intentions to the operators to some extent, and then translate them into multiple languages to accurately convey them to the guests.
Moreover, once you answer a question, it is stored by deep running, so the more you use it, the more accurate it becomes.
There is a huge difference between a facility that just introduced chatbots and a facility like our company that has been using them for more than 2 years. That's why I think it's better to install a tripla chatbot as soon as possible if you are interested.
– New functions requested by hotels and inns, such as "booking function" have been added one after another
I came across tripla when I was aware of the big challenge: "I need to increase productivity with AI and IoT".
At the time, we were a venture company that wasn't that well known, but that was why we thought we could do things that the big companies couldn't do while renovating. In particular, I thought that cloud-based AI and IOT, unlike factory machines and stationary information terminals, could be upgraded, and expanded at any time at an astonishing speed, making them ideal for venture companies. Therefore, I thought it would be interesting to get involved in the system that tripla had just started to create.
When it comes to chatbots, I have the impression that tripla has a good view of the market's issues and needs from the beginning.
I often asked tripla, "Can you do this?" "Do you have plans for this?", but they told me right away, "We'll consider introducing it next time", and "We'll expand it in the future".
In fact, it includes a new "booking function" which wasn't included in the initial release. I think this was quite a big system improvement.
In the beginning, we were only able to post a link to make reservations in response to questions about it, but with the new feature, the chatbot itself is now linked to our site controller, and customers can make reservations conveniently within the chatbot.
Now that the booking system has been launched and is starting to link to each other, I am looking forward to more new features of tripla.
※ Currently, "tripla chatbot" can be integrated with 4 major domestic site controllers (TL Lincoln, Neppan, Temairazu, and Rakutsu with).
Q: How did you introduce "tripla hotel booking" and what were the results?
– Direct booking ratio increased 1.19 times even during COVID-19 period
Compared to the previous booking system, the ratio of direct bookings has increased 1.19 times since the introduction of tripla Hotel Booking.
We started using the booking engine in March 2020, right in the middle of the COVID-19, when the state of emergency was declared and accommodation facilities were hardest hit by the situation.
As a result, the number of room reservations, which is the denominator for both international and domestic OTAs, has decreased, but the number of direct reservations via tripla Hotel Booking has not decreased. On the contrary, the ratio of direct bookings has been increasing.
It may be a long way off, but I expect that it will become more and more effective when domestic and international travelers, including inbound travelers, return to Japan.
– We wanted to transcend the language barrier and convey our intentions to our international customers
One of the first reasons for introducing the system was that I thought it would be possible to secure a certain percentage of direct reservations from foreigners.
When a foreigner tries to use the booking system that we put on the website, many other companies' booking systems only show Japanese or text that has been forcibly translated by a machine.
This would make it difficult for foreigners to use, and our intentions would not be conveyed accurately.
In fact, many ryokans tend to deliberately divert overseas reservations to overseas OTAs, because overseas OTAs with multilingual support can solve this problem. It is difficult for many ryokans to handle foreign languages. And the commissions will be higher because of that.
tripla has a very useful booking system that solves the problem of multiple language support. For a standard fee, you can use a booking system that is translated into English, Simplified Chinese, Traditional Chinese, and Korean by tripla's native staff.
I think this is also a form of customer service, in the sense that we can accurately convey our intentions to our foreign customers in a way that is easy to understand.
– The appeal of tripla's reservation screen using a simple UI which is popular overseas
One of the major pillars of our company's future growth scenario is to expand globally, so we chose tripla because we thought we needed a foreigner-friendly UI.
To make reservations easier for international customers, the user interface (UI), which is a simple reservation screen from the customer's perspective, is important.
As a trend, in domestic OTA, not to mention the pictures, the catch copy and the contents of the plan explanation in the text part are important, but on the other hand, in the major overseas reservation sites, the pictures are larger and the text is arranged, and the minimum necessary product explanation is seen in common features.
When I looked at the tripla booking screen, the UI was very simple like an overseas booking site, and I felt that it was already optimized for the inbound market.
Also, plan descriptions for the domestic market tend to be written in abstract expressions. When that is automatically translated, most of the accommodation plans become unintelligible to foreign customers. With tripla, the minimum necessary information content will be maintained in multiple languages.
In addition, the booking and search screens are not complicated, which makes them easy to use for both domestic and international customers. I thought it would convey what the inn wanted to say in a simple, well-designed multilingual format.
Q: What functions are you using effectively?
– I was amazed at the speed of development of the "Future Accommodation Ticket"
Soon after the start of COVID-19 crisis, we implemented a function to sell "Future Accommodation Ticket" that customers could purchase in advance, and I was amazed at the speed of its development.
Due to the coronavirus outbreak and the declaration of a state of emergency, I was suddenly notified that this service would be implemented at a time when I was almost cash-strapped. Coupled with the need to "I don't want to travel because of the coronavirus right now, but if it settles down in the near future, I'd like to take a trip and save some money", many of our customers actually purchased the future accommodation tickets.
For the facility, since it is a pre-purchase type, we feel that it has helped us in the difficult situation during the COVID-19 outbreak in terms of cash flow.
※ Since then, we have started a GoTo campaign that is more beneficial to our customers, so we have refrained from selling tickets for future stays.
Also, the great thing about future accommodation tickets is that they can be operated without any trouble for both parties. We have been selling accommodation tickets for a long time, but the conventional analog way of selling accommodation tickets was troublesome for both the guests and the inn. There were cases where customers bought the tickets for celebrations or for the company's golf prizes, but it was a mutual burden for both parties to prepare the tickets, mail them, confirm the payment, and call to check the availability.
It's very good because the system was designed to solve all of those gift applications online.
We sell directly to customers in advance. In addition, you can ask other people to use the accommodation ticket or give it as a gift. I hope this will return to the main battlefield after GoTo.
It is interesting to use, and I am sure there will be more ways to utilize it in the future.
– We want to expose our company to the best rates in Google Hotel Ads
Google Hotel Ads integration is also an interesting and important mechanism.
In order to increase direct bookings, we need to expose ourselves on the web in a better way than other companies, with better pricing and easier to understand plan descriptions.
tripla has the best rate comparison function of OTAs, and I've heard that in the future, GoTo will be able to provide rates after a 35% discount, so we will be able to get the best rates for sure.
Yufuin Toshoan in our group, which is scheduled to open in late March, considers its own sales to be one of its main pillars, and preparations are under way to launch the Google Hotel Ads service as well.
Q: What is your outlook for the future?
We will use the Extra feature of tripla Hotel Booking to sell special order dishes and other items.
At Yufuin Baien, which offers high-class catering in guest rooms as one of its plans, this Extra feature will become more important.
At Yufuin Baien, one of our group hotels that reopened in March, we are selling a catered meal from our partner restaurant,"Shidashiya Wasabi", as an option for a one-night stay plan. Under the coronavirus pandemic, there is a strong demand for catering that can be enjoyed in guest rooms, and we plan to offer it at Toshoan, so we will be able to offer it as an Extra on tripla Hotel Booking.
In our group's development, which focuses on small-scale, multi-facility businesses, tripla's services, which are centered on AI, IT, and IOT, will become a must-have for improving productivity.
As the number of facilities we operate increases, group memberships will be in demand in the future. We are very grateful for the increase in direct bookings, and we would like to build relationships with our customers by having them register as members.
When it comes to the affinity between the two services, CB 's membership registration function has been strengthened recently.
tripla has implemented many new features in the past, and I look forward to seeing more in the future.
[Concept and features of Yufuin Bettei Itsuki]
A relaxing detached inn at the foot of Mt. Yufu
In the town of Yufuin, at the foot of the majestic Mount Yufu, there are 13 separate lodges and 14 rooms, each with its own unique style. There is also a restaurant where you can enjoy new Yufuin cuisine using seasonal ingredients, with a focus on local production. We hope you enjoy your stay here.
Itsuki Hotels Japan also operates several hot spring inns in Yufuin, Oita Prefecture. In March 2021, Yufuin Baien will be reopened after renovation and tripla service will be introduced.
[Yufuin Bettei Itsuki] Guest room with open-air bath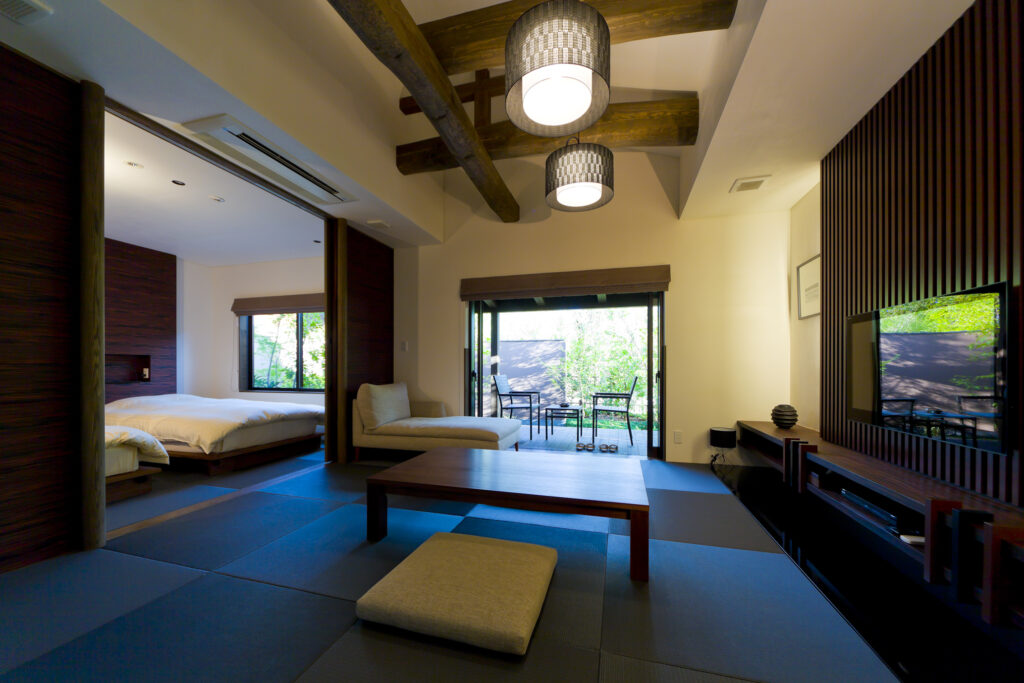 [Yufuin Bettei Itsuki] Guest room
Visit the official website of Yufuin Bettei Itsuki
Thank you for your cooperation in this interview.