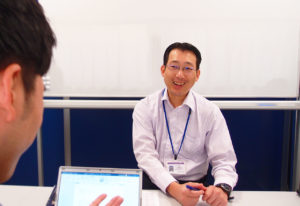 Hankyu Hanshin Hotels Co., Ltd.
remm Business Division
Mr. Satoshi Fujita, General Manager, Sales & Revenue Management Dept.
---
Q: What made you decide to introduce our system?
We received nearly 50 e-mails a day from overseas, so we decided to introduce this system to reduce the workload on site. Aside from reservations, I think AI is especially suitable for answering about fixed content such as luggage storage and check-in times, so we started with remm Roppongi, which has a high rate of visitors from overseas.
Q: What has changed since you started using our service?
Rather than a significant decrease in the number of inquiries, my impression is that the overall number of inquiries has increased.
I believe that we have been able to increase the number of new customers, as people from overseas who may not have taken action before their trip can now easily ask questions in their own language from the chatbot.
Q: What points do you think have been improved?
In the past, the answers varied depending on the person in charge, but by creating FAQs and teaching them to AI, the answers became more consistent.
Not only via chat, but also the staff members have started to standardize their answers, which has reduced the number of complaints from customers.
Q: What are your current expectations?
I would like to see a voice AI answering version of the tripla chatbot.
If people are uncomfortable with email, it could be nice to support automated conversations via phone or Skype.
We could put a voice terminal next to the front desk that could act as an interpreter when there is no staff member who can understand foreign languages.
Thank you for your cooperation in this interview.